Our Work – Our Completed Projects Gallery
Completed Projects Gallery – Custom Military Framing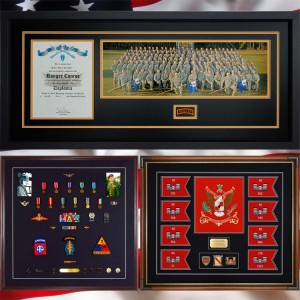 Our completed projects gallery for military framing includes examples of military frames completed in the past. These completed military framing projects have met or exceeded our customers' expectations. The examples of military frames in our completed projects gallery provide a sense of the diversity and the experience we offer as quality, conservation-grade picture framers. The emphasis throughout the Framed Guidons website is on our ability to produce quality custom military framing. It is for that reason that we focus our examples primarily on military-related themes and subjects in our completed projects gallery. These military examples illustrate our ability to produce unique picture framing designs that artistically present and preserve heirloom objects.
In various sections throughout this website, we have expressed our concerns that quality framing should be superior to discount framing based on the virtues of longevity and eye-appeal, as opposed to price point considerations. This point is emphasized in our guide to selecting a custom framer. However, we believe that visual examples of completed quality military framing projects represent the best illustration of our capability as custom military framers. For this reason, we have put together Our Completed Projects Gallery.
The completed projects gallery illustrating our work represents a broad spectrum of custom military framing projects and themes that include the following subjects:
Framed Battalion Colors
Framed Cigar Labels
Framed Sports Memorabilia
Our Gallery of Completed Military Projects Is A Design Starting Point
The examples in our completed projects gallery are just that—examples. Our goal is to visually suggest ways to custom frame military objects and military themes. By publishing examples of quality military framing, we hope to offer suggestions of ways you may wish to frame your military heirloom objects, military art, military prints, military photographs, awards, diplomas, certificates, medals, ribbons, battalion colors, flags, or guidons. Offering you visual suggestions for custom framing also holds true with respect to the guidon designs available in our e-commerce shop.
All of the guidon package designs are customizable. The gallery of completed guidons provides illustrations that represent variations of our standard e-commerce packages. Every design example is customizable. We cannot overemphasize this point. So, please contact us if you see a design you wish to have modified. We will gladly design and build a custom guidon frame or modify a guidon package to suit your specific or individual tastes or requirements. Please take a look at the other galleries too. If we can assist you with a military shadow box; a flag display; a medal or ribbon display case; or framing military prints, please feel free to contact us for suggestions or assistance.