Branding Framed Guidons As A Custom Military Framer
Branding Framed Guidons Is Part Of Growing Cindy's Custom Framing & Antique Art, Inc.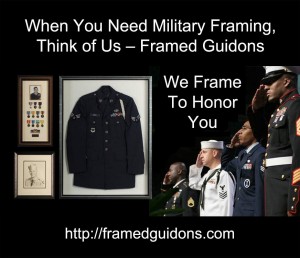 Branding Framed Guidons as a custom military framing site was a decision made by management at Cindy's Custom Framing & Antique Art, Inc., located in Richmond Hill, GA. The decision to create a separate brand (Framed Guidons) for custom military framing is based on a transition in the picture framing services requested by our customers. The demand for framing services from military customers has become a larger segment of the retail and online business for us–Cindy's Custom Framing & Antique Art, Inc. over the past few years.
Initially, our local frame shop in Richmond Hill devoted its marketing efforts to traditional picture framing, antique art sales, cigar label sales, fruit crate label sales, antique prints, antique maps, and custom framing of paintings, art, and picture sales. Cindy's Custom Framing & Antique Art, Inc. also worked with local artists to promote their works in our store and online. As our reputation for producing high-quality picture framing spread throughout the community, we soon found ourselves framing more complex pieces for military customers.
Evolution Of Internet Sales Fostered The Branding Process For Framed Guidons
The initial website ( http://cindysantiqueart.com ) used by Cindy's Custom Framing & Antique Art was devoted to online art marketing and online picture framing services. Software was installed on the site that allowed customers to select mats and frames for the art offered for sale online. This permitted customers to frame pictures without the assistance of a custom framer.
However, it was discovered that the do-it-yourself framing process is not well-suited for framing complex picture framing designs. There are limitations for any online software's ability to produce complex military framing designs. For example, there is no way to use an online framing program to make the mat cuts for a guidon and then have multiple openings surrounding the guidon with military objects.
Although the online framing site had its limitations, Cindy's Custom Framing & Antique Art, Inc. continued to produce spectacular one-of-a-kind designs for our military customers. The best designs resulted from one-on-one sessions with customers. Then, as a testament to our design achievements, examples of our quality and unique works were posted online. The demand for complex designs was seen online by military customers hungry for designs that showcased framing military memorabilia. Soon, additional requests from prospective customers came in as more military framing examples were posted. We soon found ourselves receiving calls from across the country asking for framed pieces similar to the designs found online. Now, the push for branding Framed Guidons was on.
The Framed Guidons Brand Represents Quality
As additional military framing examples were completed, they were posted online, through social media, and other outlets. At that point, Cindy's Custom Framing & Antique Art, Inc. began to receive positive reviews for our work and quality. The steady increase in guidon framing, military shadow boxes, medal displays, flag displays, and framed military art inspired us to develop a website specifically oriented toward the military. The decision to create an e-commerce site that catered primarily to the military became obvious. Framing guidons and military items in creative designs that reflect a soldier's dedication to their country has become an integral part of our online business. It became clearer and clearer that a push was required for branding Framed Guidons with its own unique website. So, the process of branding Framed Guidons was ushered into existence with the designs that featured preconfigured guidon frames with objects for an e-commerce store.
The Name "Framed Guidons" Means Quality Guidons And Custom Military Framing
In the about us section, we fully acknowledge that we are Cindy's Custom Framing & Antique Art, Inc. However, we are also all about guidons and custom guidon framing. We are also all about framing for the military. For this reason, we decided to launch a website based on a business model devoted towards selling custom embroidered guidons with high-quality custom framing. Throughout this site, you will find examples of framed guidons in unique designs framed with military memorabilia. You will also find examples of guidons framed with larger objects in shadow boxes. In addition, there are other categories of military framing that we specialize in such as shadow boxes, flag displays, medal displays, and military memento framing.
Over the last five years, we've seen a steady growth in business from our military customers. In order to simplify their buying experience, we have launched "Framed Guidons" to assist them in making purchase decisions for military framing.
We strongly associate the Framed Guidons Brand with custom military framing. Framing for the military is something we're extremely proud of. We view our military customers as true assets to our nation. Each and every design for a guidon, shadowbox, a medal display case, a flag display, or for military art is deemed important to us—because each of our customers has earned the right to display it proudly!
It is with this post that we urge our customers, that when they think of military framing, please think of us, "Framed Guidons" at https://framedguidons.com
To learn more about us, please visit our About Us Page. Feel free to contact us by phone at 912-756-2781 or by using our Contact Us Form.